Welcome Future RiverHawks Parents!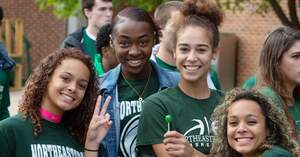 Call 918-444-4675 or fill out the form below.
Northeastern State University is family approved and close to home! Here, your student's success is our mission. Named one of the Top 40 safest campuses in the nation, NSU offers affordable, in-demand degrees that prepare students for a broad spectrum of careers in Business, Education, Science and Health Professions, and Liberal and Fine Arts programs.
We know you are committed to helping your student achieve success in college, and so are we. Here supportive, caring faculty and staff work together to help each student identify individual educational and career goals and engage in college experiences that prepare them to become successful, productive citizens.
NSU's first-time freshmen experience the traditional residential college lifestyle on our Tahlequah campus—specialized living-learning communities, a variety of student organizations including sororities and fraternities, lots of food choices, scenic grounds, historic buildings and intercollegiate athletics. Our faculty and staff are ready to point you in the right direction.
Transfer students have options in Tahlequah, Muskogee, Broken Arrow and Online.
Family Approved!
Green Country's affordable university!
58+ degree options
One of the 40 SAFEST campuses in the nation
It starts with a simple request for information.
If you are ready for the next step - Apply Today!