Christy Reed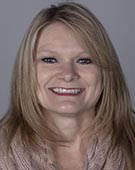 Christy Reed
Assistant Professor
Curriculum Instruction BA
Office Location
Broken Arrow
Broken Arrow Education 156
(918) 449-6535
Bio
Dr. Christy Reed came to Northeastern State University as an Assistant Professor of Early Childhood Education within the Department of Curriculum and Instruction. Prior to that, she was a classroom teacher for seven years, then an Associate Professor of Education in Texas.
Education:
PhD, Curriculum and Instruction/Language and Literacy, Texas Tech University, 2012
Research interests include effective practices for reading and writing, children's literature, advocacy in the classroom, and teaching English language learners.
Teaching interests include early childhood education, reading, elementary education, and teaching English language learners.
Presentations:
A creative approach to literacy instruction for adolescent English language learners - Rocky Mountain Educational Research Association - Broken Arrow, OK - October 2018
Culture in the Toddler Classroom - OKAEYC Annual Conference - Edmond, Oklahoma - September 2019
Courses Taught:
BIRTH TO TWO DEVELOPMENT - ECED 4813 - Fall 2019
READ/LANG DEV OF THE YNG CHILD - READ 4023 - Fall 2019
EARLY CHILDHOOD LITERACY - ECED 4153 - Fall 2019
CREATIVE EXPRESSION FOR EC - ECED 5113 - Fall 2019
CREAT EXPR FOR EARLY CHILDHOOD - ECED 4113 - Fall 2019
COGN DEV YOUNG CHILD/INTEG CUR - ECED 4213 - Fall 2019
BIRTH TO TWO DEVELOPMENT - ECED 4813 - Fall 2018
COGN DEV YOUNG CHILD/INTEG CUR - ECED 4213 - Fall 2018
CREAT EXPR FOR EARLY CHILDHOOD - ECED 4113 - Fall 2018
TRENDS & RES IN EARLY CHILD - ECED 5583 - Fall 2018