Farina King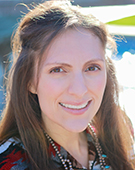 Dr Farina King
Associate Professor
History
Office Location
Tahlequah
Haskell Hall Annex 237
(918) 444-3505
Bio
Farina King is of English-American descent, born for Kinyaa aanii, or the Towering House Clan, of Din (Navajo). She is a citizen of the Navajo Nation.
Farina is an Associate Professor of History at Northeastern State University, Tahlequah, Oklahoma. She is also an affiliate of the Cherokee and Indigenous Studies Department and the Director of the NSU Center for Indigenous Community Engagement.
Farina was The David J. Weber Fellow for the Study of Southwestern America at the Clements Center for Southwest Studies of Southern Methodist University (2016-2017). She earned her Ph.D. in U.S. History at Arizona State University in 2016. Her first book,
The Earth Memory Compass: Din Landscapes and Education in the Twentieth Century
, was published by the University Press of Kansas in 2018. She is the co-author of
Returning Home: Din Creative Works from the Intermountain Indian School
(November 2021).
She was the Charles Eastman Dissertation Fellow (2015-2016) at Dartmouth College. She received her M.A. in African History from the University of Wisconsin and a B.A. from BYU with a double major in History and French Studies.
Education:
PhD, U.S. History, Arizona State University, 2016
MA, African History, University of Wisconsin, 2010
BA, History and French Studies, Brigham Young University, Magna cum laude, 2008
Native American and Indigenous Studies, Navajo Studies, histories of First Nations and Native Americans in North America, comparative studies of colonialism, twentieth-century U.S. History, oral history, religious studies and histories especially of Mormonism.
Native American and Indigenous Studies, American Indian History, Ethnohistory of North America, Comparative Colonial History, U.S. History, Oral History, History of American Indian Education, Public History.
Performances:
April 2019 - January 2022, Art - Exhibition, Group, (Provo, Utah; Gallup, New Mexico; Window Rock, Arizona; Flagstaff, Arizona; Logan, Utah, U.S.A.)

Intellectual Content:
Farina King: Din heroes facing monsters through generations (Newspaper), Application, Published, May, 2020
An Indian Boarding School Family (Journal Article, Academic Journal), Discovery, Published, October (4th Quarter/Autumn), 2019
Aloha in Dine Bikeyah: Mormon Hawaiians and Navajos, 1949-1990 (Book, Chapter in Scholarly Book-New), Discovery, Published, June, 2019
Intergenerational Ties: Dine Memories of the Crownpoint Boarding School during the 1960s (Journal Article, Academic Journal), Discovery, Published, October (4th Quarter/Autumn), 2018
The Earth Memory Compass: Dine Landscapes and Education in the Twentieth Century (Monograph), Discovery, Published, November, 2018
A Loyal Countrywoman: Rachel Caroline Eaton, Alumna of the Cherokee National Female Seminary (Book, Chapter in Scholarly Book-New), Discovery, Accepted,
Presentations:
"Visionaries of Indian Country" - 48th Annual Symposium on the American Indian - Tahlequah, OK - April 2020
"LDS Native American Perspectives on Columbus" - - Provo, UT - October 2019
Including Indigenous Voices in the Classroom with Primary Sources - National Council for the Social Studies - Austin, TX - November 2019
The Southwest in Motion: Navajo, Pueblo, and Hopi Paintings from the Charles Little Collection - - Stillwater, OK - September 2019
Mapping Tahlequah History - Paving the Way: Green Country's Cultural & Historical Preservation Initiative 2019 - Tahlequah, OK - September 2019
Crownpoint Boarding School Through Din Generations - People & Places Monthly Lectures - Albuquerque, NM - February 2019
Navajo Voices on Bears Ears and showing of Shash Jaa - Navajo Voices on Bears Ears and showing of Shash Jaa - Salt Lake City, UT - October 2017
Courses Taught:
DIRECTED STUDIES - AIS 4821 - Summer 2020
AMERICAN HISTORY SINCE 1877 - HIST 1493 - Summer 2020
STUDIES IN HISTORY - HIST 4023 - Spring 2020
SPECIAL TOPICS SEMINAR - WGS 3003 - Spring 2020
SEMINAR IN AMERICAN STUDIES - AMST 5923 - Spring 2020
HISTORY OF INDIAN EDUCATION - CHER 4513 - Spring 2020
HISTORY NATIVE AMERICAN WOMEN - HIST 3733 - Spring 2020
AMERICAN HISTORY SINCE 1877 - HIST 1493 - Spring 2020