Richard Hasenauer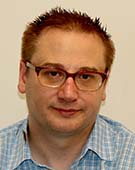 Dr Richard Hasenauer
Associate Professor
Mathematics
Office Location
Tahlequah
Science Building 233
(918) 444-3836
Bio
Dr. Richard Hasenauer joined Northeastern State University's faculty in 2015 as an Assistant Professor of Mathematics in the Department of Mathematics and Computer Science. Since then he has been promoted to the rank of Associate Professor, and served as the Department Chair of Mathematics and Computer Science for a time.
Education:
PhD, Mathematics, North Dakota State University, 2012
Commutative Algebra, Factorization Theory, and Number Theory
I enjoy teaching a broad range of classes in mathematics and statistics. I especially like teaching modern algebra and doing research projects with students.
Intellectual Content:
A characterization of non-Noetherian BFDs and FFDs (Journal Article, Academic Journal), Discovery, Published, 2017
Class (semi)groups of Prufer domains and atomicty (Journal Article, Academic Journal), Discovery, Published, 2021
Factorization properties of Prufer domains (Journal Article, Academic Journal), Discovery, Published, 2018
Normsets of almost Dedekind domains and atomicity (Journal Article, Academic Journal), Discovery, Published,
Tau-atomicity in Quotients of Size Four (Journal Article, Academic Journal), Discovery, Published, 2020
Presentations:
Class (semi)groups in Prufer domains and atomicity - Third International Conference on Mathematics and Statistics - UAE - 2020
Factorization if Prufer domains - Conference on Rings and Factorization - Graz, Austria - 2018
Factoring in non-Noetherian domains - Clemson University's Algebra and Discrete Mathematics Seminar - Clemson, Couth Carolina - 2017
Factorization in Prufer domains - Special Session in Factorization, Joint Meetings - San Antonio, Texas - 2015
Factorization properties in Prufer domains of finite character - AMS Special Session on Commutative Rings - Stony Brook, New York - 2016
Ideal class semigroups of almost Dedekind domains - AMS Special Session on Multiplicative Ideal Theory (In honor of Tom Lucas' retirement - Columbus, Ohio - 2018
Ideal semiclass groups of sequence domains - AMS Special Session on Factorization and Arithmetic Properties of Integral Domains and Monoids - Honolulu, Hawaii - 2019
On non-Noetherian BFDs and FFDs - AMS Special Session on Commutative Ring Theory - Ann Arbor, Michigan - 2018
Possible applications of non-Noetherian domains to cryptography - Funded Speaker, The United States Military Academy - West Point, New York - 2015
Topological characterizations of BFDs and FFDs - AMS Special Session on Commutative Rings - Charleston, South Carolina - 2017
Courses Taught:
HISTORY OF MATHEMATICS - MATH 4613 - Spring 2020
ELEMENTARY NUMBER THEORY - MATH 4243 - Fall 2019
SEMINAR IN MATHEMATICS - MATH 4813 - Summer 2019
MODERN ALGEBRA: GROUPS - MATH 4013 - Spring 2019
MODERN ALGEBRA: RINGS - MATH 3713 - Fall 2017
SENIOR SEMINAR - MATH 4723 - Fall 2017
SEL TOPICS IN COMP SCIENCE - CS 4102 - Spring 2017
COLLEGE ALGEBRA - MATH 1513 - Fall 2016
COMPLEX ANALYSIS I - MATH 4303 - Fall 2016
INTRODUCTION TO ANALYSIS - MATH 3913 - Spring 2016
MATHEMATICAL MODELING - MATH 4403 - Spring 2016
APPLIED MATHEMATICS LAB - MATH 1471 - Fall 2015
APPLIED MATHEMATICS - MATH 1473 - Fall 2015
CALCULUS I - MATH 2614 - Fall 2015
STATISTICAL METHODS - MATH 3513 - Fall 2015