Sharon Clevenger- Baldridge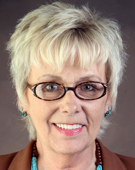 Sharon Clevenger- Baldridge
Instructor/Dev Reading Spec
English
Office Location
Tahlequah
Haskell Hall Annex HHA 314-9
(918) 444-3607
Additional Contact Methods
Alternate Phone: 918-316-2348
Bio
I did not know when I moved to Oklahoma from my home state of Arizona, that one day I would be an instructor at a 4-year regional university and find fulfillment and joy.
I live in Tahlequah with my husband, Jim, and two fur babies. We like to go on walks at the lake and country, visit daughter and grandchildren in Arizona, garden, read and listen to music.
Education:
MA,,Northeastern State University,,2005
BA,,Northeastern State University,,2003
My Research interests are always concentrated on ways to integrate reading and writing courses in order to help facilliate students' education and fast forward their goals of enrollment in college, credit bearing course work. I am also interested in providing well-trained tutors.
My teaching interests are with Developmental Reading and Writing, Composition I and II courses, Introduction to Literature and University Strategies.
Presentations:
Leaping: after Looking: Combining Hybrid and Tutoring Methods" - Heartland CRLA Conference (Virtual) - Mahoney State Park Resort, Nebraska - November 2019
Courses Taught:
INDEPENDENT STUDY I - ENGL 5503 - Fall 2020
COMPOSITION I LAB - ENGL 1111 - Fall 2020
COMPOSITION I LAB - ENGL 1111 - Fall 2020
COMPOSITION I LAB - ENGL 1111 - Fall 2020
ENGLISH COMPOSITION I - ENGL 1113 - Fall 2020
ENGLISH COMPOSITION I - ENGL 1113 - Fall 2020
ENGLISH COMPOSITION I - ENGL 1113 - Fall 2020
READING ENHANCEMENT - ENGL 113 - Fall 2020
INDEPENDENT STUDY I - ENGL 5503 - Fall 2020
INTRODUCTION TO LITERATURE - ENGL 2113 - Summer 2020
READING ENHANCEMENT - ENGL 113 - Spring 2020
COMPOSITION I LAB - ENGL 1111 - Spring 2020
COMPOSITION I LAB - ENGL 1111 - Spring 2020
ENGLISH COMPOSITION I - ENGL 1113 - Spring 2020
ENGLISH COMPOSITION I - ENGL 1113 - Spring 2020
READING ENHANCEMENT - ENGL 113 - Spring 2020
READING ENHANCEMENT - ENGL 113 - Spring 2020
READING ENHANCEMENT - ENGL 113 - Spring 2020