Richard Castillo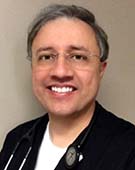 Dr Richard Castillo
Assistant Dean/Clinical Prof
Clinical Staff Cherokee Nation
Office Location
Tahlequah
Optometry None
(918) 444-4038
Bio
Dr. Castillo is a graduate of the NSU College of Optometry (OD) as well as the OSU College of Osteopathic Medicine & Surgery (DO), where he completed a Residency in Ophthalmology. He has been NSUs principle surgeon, and a clinical professor since 1999. He also serves as Assistant Dean overseeing the surgical training program, as well as optometrists and students in the University s Ophthalmic Surgery Service. He is a founding faculty (1999) of NSU-OCO's renowned Advanced Procedures course lecturing extensively, both nationally and internationally. Dr. Castillo has authored several textbook chapters, is co-chair of the AOA's Contemporary Practice Task Force, current President of the American Society of Optometric Surgeons, past-chair of the National Commission for Vision and Health, and chaired past committees for the National Board of Examiners in Optometry. He is a member of the Oklahoma Medical Reserve Service Corps. Dr. Castillo is a recipient of the 2021 ArOA's Special Service Award, the OAOP's 2017 Distinguished Service Award, and a Special Citation (2014) from the Oklahoma House of Representives for outstanding contributions to the advancement of surgical care in Oklahoma.
Education:
OtherDoctor of Osteopathic Medicine, Oklahoma State University College of Osteophathic Medicine, 1993
OD, Optometry, Northeastern State University College of Optometry, 1987
BS, The University of Tulsa, 1982
Office-based surgical procedures and applied technology in primary eye care.
Methods of teaching office surgery and ophthalmic laser procedures to optometrists.
Diseases and surgery of the eye.
Office-based surgical procedures.
Training paradigms for teaching ophthalmic lasers and office surgery to optometrists.
Educational models for teaching office-based anesthesia techniques to optometric faculty, residents and students.
Presentations:
Clinical Workshop: Intro to Therapeutic Lasers - NSUOCO Advanced Procedures - Denver Colorado - June 2018
Suture Techniques - NSUOCO Advanced Procedures - Tahlequah OK - July 2019
Medicolegal Aspects of Anterior Segment Laser Procedures - NSUOCO Advanced Procedures - Philadelphia, Pennsylvania - June 2018
Clinical Workshop: Intro to Therapeutic Lasers - NSUOCO Advanced Procedures - Casper, Wyomong - October 2018
Courses Taught:
PHYSICAL DIAGNOSIS LABORATORY - OPT 6031 - Summer 2020
OFFICE-BASED SURGERY - OPT 7042 - Summer 2020
PHYSICAL DIAGNOSIS LABORATORY - OPT 6031 - Summer 2019
OFFICE-BASED SURGERY - OPT 7042 - Summer 2019