The Crown: Black Hair In The Workplace presented by Cory Booker
600 N
Grand ave

TAHLEQUAH
,
OK
74464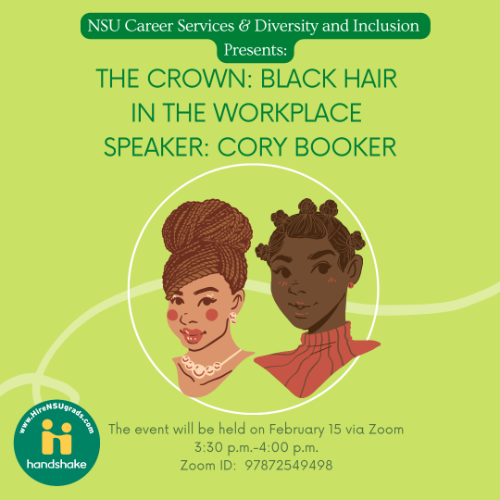 Join NSU Career Services & NSU Diversity & Inclusion for this virtual presentation
The Crown: Black Hair in the Workplace
Guest Speaker: Senator Cory Booker
Tuesday, February 15, 2022
3:30 pm - 4:00 pm
via Zoom https://nsuok.zoom.us/j/97872549498
Did you know that natural hairstyles for Black people have frequently been banned or deemed "unprofessional" for the workplace? Locs, braids, and afros were and in some places still are looked at as limiting for Black professionals. Come hear about the CROWN act, a bill introduced to the senate that prohibits discrimination based on a person's hair texture or hairstyle if that style or texture is commonly associated with a particular race or national origin.
Register via Handshake by clicking the website link below.
Tuesday, February 15, 2022
Contact:
Kasey Rhone
Phone: 918-444-2525
Website:
Click to Visit