Author Talk: Dr. Russell Lawson
711 N Grand

Tahlequah
,
OK
74464
USA
Phone: 918-444-3235
Website:
Click to Visit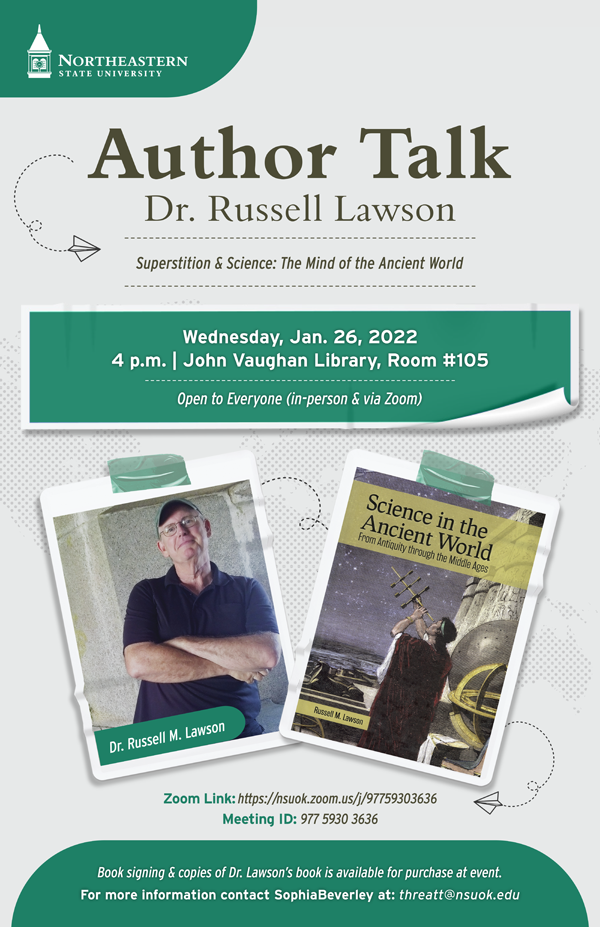 Author Talk: Dr. Russell Lawson: Superstition and Science: The Mind of the Ancient World
Date: January 26th, 2022 (Wednesday)
Time: 4pm
Location: John Vaughan Library, Room #105
Open to everyone (in-person and via Zoom)
Book Title: Science in the Ancient World: From Antiquity through the Middle Ages.
Zoom information:
Topic: Author Talk: Dr. Russell Lawson
Time: Jan 26, 2022 04:00 PM Central Time (US and Canada)
Book Signing: Copies of book available for purchase at event
The Ancient and Medieval mind differed from the modern mind in the willingness to see the natural environment as influenced simultaneously by the rational and irrational, natural and supernatural forces, science and magic. Whereas humans today embrace the scientific, rational mindset, our forebears conceived of benevolent and malevolent forces inherent in the natural environment that interposed on attempts by savants and scientists to see a rational regularity and uniformity in nature.
Russell Lawson was born and raised in Tulsa, Oklahoma. His first intellectual interest was in ancient Greek mythology, which led to a lifelong fascination with the history of the ancient Mediterranean. He matriculated at Oklahoma State University from 1975 to 1979, majoring in history. From 1980 to 1982, he studied at OSU for a Master's degree in Ancient Mediterranean history. He earned a Ph.D. in American history from the University of New Hampshire in 1987. He has taught at schools in New England, Oklahoma, and Ontario. Dr. Lawson teaches and writes on the history of ideas. He has written twenty-one books: nonfiction, fiction, reference. He is married, has three sons, and four rescue pups. He is currently an adjunct history professor at NSU.
Wednesday, January 26, 2022
Contact:
SophiaBeverley Thrēatt