What is clinical medicine? A link from the basic sciences to the patient - Spring 2021 Seminar Series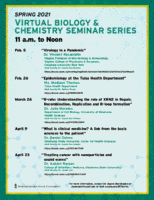 The NSU-BA Spring 2021 Virtual Biology & Chemistry Seminar Series is presented by the NSU Gregg Wadley College of Science & Health Professions and arranged by Dr. Sapna Das-Bradoo, associate professor of molecular biology, the virtual series includes speakers with topics in five areas of study.
April 23 - "Treating cancer with nanoparticles and sound waves" will be the topic shared by Dr. Ashish Ranjan from College of Veterinary Medicine, Oklahoma State University. Dr. Janaki Iyer, assistant professor of Biology, will serve as the NSU host for this presentation.
https://nsuok.zoom.us/j/94804422649
The seminars are free and open to the public. Each one-hour lecture begins at 11 a.m. virtually via Zoom. For more information, contact Das-Bradoo at dasbrado@nsuok.edu.