Virology in a Pandemic - Spring 2021 Seminar Series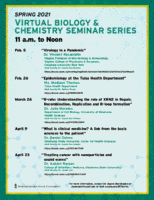 (Broken Arrow, Oklahoma) -- The Northeastern State University Broken Arrow campus will begin its Spring 2021 Virtual Biology & Chemistry Seminar Series on Feb. 5.
Presented by the NSU Gregg Wadley College of Science & Health Professions and arranged by Dr. Sapna Das-Bradoo, associate professor of molecular biology, the virtual series includes speakers with topics in five areas of study.
Feb. 5 - "Virology in a Pandemic" will be presented by Dr. Vincent Racaniello, professor of microbiology and immunology at the Columbia University Vagelos College of Physicians & Surgeons in New York. Das-Bradoo will serve as the NSU host for this session.
Register in advance for this discussion:
https://nsuok.zoom.us/meeting/register/tJwvfuqvrD4sHNGB5SZwTk5tuEdTy0XMoplG
The seminars are free and open to the public. Each one-hour lecture begins at 11 a.m. virtually via Zoom. For more information, contact Das-Bradoo at dasbrado@nsuok.edu.