Webinar - Red Erotic: The Fall and Rise of Indigenous Erotics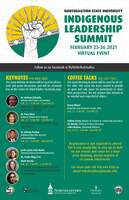 Presenter:
Dr. Tracy Bear [Nehiyaw iskwêw (Cree woman)]
Keynote Title:
Red Erotic: The Fall and Rise of Indigenous Erotics
Wednesday, February 24
12:00 PM - 1:00 PM CST

In the realm of Indigenous erotics, re-imagining encompasses acts of nonconformity, resistance, and subversion. These are alternative ways of envisioning the past, present and future. Indigenous writers and artists are generating new landscapes, and new possibilities of "Indigenous subjectivity, sociality, and spatiality … a process of creating newness from existing materials, seemingly out of nowhere" (Rifkin 99). While Rifkin states these new possibilities come from seemingly 'nowhere', there is in fact, a rich Indigenous archive from which to draw from and these landscapes are the collective Indigenous identity stemming from individual and collective experiences of Indigenous people. Re-imaginings do not conform to the current logics of settler colonial power; they resist the colonial 'managing' of Indians by the Indian Act and avoid impositions of legal definitions of ourselves. Re-imaginings are also subversive actions taken up by Indigenous authors to disrupt colonial stereotypes. This talk presents Indigenous erotics as a state of re-imagining the corporeal coalescence of our sexualities, genders, histories, memories and emotions, and functions as a powerful decolonizing mechanism.
This event is co-sponsored by the Native American Support Center, Center for Women's Studies, NSU Student Engagement and Diversity & Inclusion.
Wednesday, February 24, 2021
Contact:
Center for Tribal Studies
Phone: 918-444-4350
Website:
Click to Visit