Webinar - Black Lives, Indigenous Lives: From Mattering to Thriving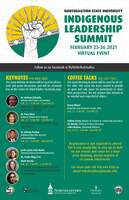 Webinar Link: https://nsuok.zoom.us/j/91840063803
Presenter:
Dr. Andrew Jolivette (Atakapa-Ishak Nation of Louisiana [Tsikip/Opelousa/Heron Clan])
Keynote Title:
Black Lives, Indigenous Lives: From Mattering to Thriving
Tuesday, February 23
11:00 AM - 12:00 PM CST

Webinar Link:
https://nsuok.zoom.us/j/91840063803
What can we learn from Black and Indigenous history, activism, and contemporary stewardship efforts in order to transform higher education, health, policing, and other Western institutions?
This dialogue will examine and discuss major points of cultural and historic community convergence between Black and Indigenous Peoples with a focus on contemporary movements such as Black Lives Matter and Idle No More and the dismantling of racist statues, images, and mascots.
Dr. Andrew Jolivétte will explore what these movements mean for enacting justice interventions and moving towards thrivance circuity, kinship building, self-determination, and abolition as transformational modes of joy production and ceremonial stewardship.
Tuesday, February 23, 2021
Contact:
Center for Tribal Studies
Phone: 918-444-4350
Website:
Click to Visit