NSU Honors Sandy Garrett With President's Award for Community Service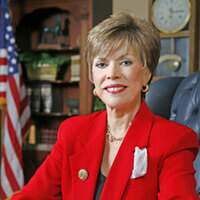 None
Sandy Garrett's name is synonymous with education in Oklahoma. After serving 20 years as Oklahoma's State Superintendent of Public Instruction, Garrett is retiring from the state's highest educational office.
"We've done many things that we can be proud of, like early childhood education, our Teacher of the Year program, implementing the education acts and downsizing the Department of Education," said Garrett. "Keeping all these things on track is an achievement in itself."
Northeastern State University will honor Garrett's decades long commitment to educating the children of Oklahoma with the President's Award for Community Service, which will be presented as part of the university's Homecoming celebration on Saturday, Oct. 9.
Born in Muskogee, Okla., Garrett went on to earn both a bachelor's degree in 1966 and a master's degree in guidance and counseling in 1968 from Northeastern. She taught for 15 years in classrooms in Muskogee County before making the leap to the Oklahoma Department of Education.
Throughout her career, Garrett's unwavering service has been to the education of Oklahoma's children. She spearheaded the campaign to improve early childhood education, and today Oklahoma's pre-kindergarten program for 4-year-olds is considered a model by the National Institute for Early Education Research. She led the implementation of Oklahoma's Education Reform Act of 1990, the No Child Left Behind Act of 2001 and the state's Achieving Classroom Excellence Act of 2005.
Early in her career with the Department of Education, Garrett foresaw the need to bring technology into the classroom. She worked with Oklahoma State University to get satellite education programs delivered to high schools around the state. As the rural education technology director at the DOE working in the Oklahoma panhandle, Garrett was able to coordinate the installation of fiber optics in the remote school districts.
"I connected with a product vendor and a telephone company in the panhandle and we connected all the schools with fiber-optic cables in 1985," she said. "They could see and hear each other from all those remote places. Nowadays we look back and think 'Oh well, that's nothing.' Then it was a very big deal."
Garrett said in this digitally driven era it is easy to forget how much technology has moved during just her time as state superintendent.
"When I took office there were rotary dial phones and no PCs," she said. "IBM Selectric typewriters were in. I brought technology to the department. Being a Macintosh user, I took my Mac to work every day and it wasn't a laptop."
Though not a traditional student at Northeastern, Garrett still recalls a warmth and feeling of being home despite commuting to school. Dr. Fount Holland, dean emeritus of the College of Education, Dr. Lee Quiett, Dr. Lowell Lehman, Dr. Ross Underwood, Dr. Amy Blackburn, her master's adviser, and her brother, Bill Langley Jr., were all people who influenced her education and career.
With hours spent studying in the student union and her time on campus as a regent for the Regional University System of Oklahoma, Garrett still feels the welcoming atmosphere of Northeastern.
"I spent many hours at Northeastern both as a student and since," she said. "I've watched the achievements of presidents Roger Webb, Larry Williams and Don Betz. Northeastern has always been very accommodating and concerned with helping its students, which isn't always the case at every school."
As she prepares to leave public office, Garrett plans to continue working for the welfare of Oklahoma's children through the state's foster care system.
"I will be working for a charity," she said. "On average, Oklahoma has 11,300 foster children at any one time. They move from home to home, school to school, and I want to do something in some small way. I'm challenging universities and high schools to reach out to these young people."
While winding down a professional career devoted to education, Garrett advices students to immerse themselves in everything college has to offer.
"Even though learning is a lifetime experience, college is a once-in-a-lifetime chance to devote so much energy to learning," she said. "When you are on campus with professors you have an opportunity to ask questions, learn and take full advantage. It's easier to say than do, but the students who really engage in their learning opportunities are the ones who become the most successful."
Garrett is one of four alumni who will be honored as part of NSU's homecoming celebration, "Welcome Back to Fabulous Northeastern State," during halftime of the Oct. 9 football game with Texas A&M-Commerce at Doc Wadley Stadium. The other award winners are Distinguished Alumni Dr. Lowell Lehman of Tulsa and LTC Ron Quiett of El Paso, Texas, and Outstanding Young Alumna Dr. Dawn Holsted of Oklahoma City.
Published: 2010-09-29 16:05:23.327000